News
China steel prices became lowest as mills near to closure
2015-12-07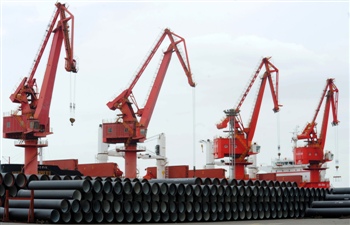 Chinese steel prices hit record lows on Tuesday amid prolonged worries over shrinking demand in the world's top consumer that market sources say has forced one of the country's largest private producers to cease output.

The shutdown by Tangshan Songting Iron & Steel, with an annual capacity of 5 million tonnes, would be one of the biggest in the sector's years-long downturn as the world's No.2 economy slows, traders and analysts said.

The company, located in the northeastern city of Tangshan, did not answer repeated telephone calls. An official with the local government of Tangshan said it was "dealing with the issue right now in accordance with related law and regulations", without specifically stating the company had ended production.

Chinese social media showed photos and videos that were apparently of hundreds of disgruntled workers gathered outside a local government building in Qian'an, Tangshan, demanding help in the face of the closure.

A shutdown would highlight the sector's woes and fuel concerns that more closures are on the way, with a raft of mills already shuttering output.

While cuts in output would remove some of the surplus capacity that has weighed on prices, traders said the latest shutdown dented overall sentiment on the outlook for the Chinese economy.

On Tuesday, Chinese steel prices plumbed a record low of 1,748 yuan a tonne, down nearly 37 percent since the beginning of this year. That has also hit demand for steelmaking ingredient iron ore, already down over 30 percent in 2015.

"I think there will be more closures in China and no capacity additions. Steelmakers and local governments don't have the incentive to build new capacity," said Wang Li, an analyst at CRU Group in Beijing.

"Generally people think that to close a steel plant would be quite difficult in China and maybe unlikely, but the fact is closures are increasing and quicker than people's expectations."

Tangshan, which is 200 km (124 miles) east of Beijing and produces more steel a year than the United States, has tens of small steel mills and has been on the frontline of China's campaigns to tackle overcapacity and pollution.

The city has pledged to reduce its annual crude steel capacity by 28 million tonnes from 2013 until 2017, roughly a fifth of its total.

Around 15 million tonnes of steel capacity in Tangshan has been shut down so far, said Cheng Xubao, an analyst with industry consultancy Custeel said.

"Local governments want to help, but they are not able to help all. More mills could shut down as demand keeps weakening. Mills are not afraid of losses, but they are worried that there is no demand."

Apparent steel consumption in China, the world's biggest producer and consumer, fell 5.7 percent to 590.47 million tonnes in the first 10 months of the year, the China Iron and Steel Association (CISA) said.

XINSTEEL INFORMATION