News
China steel prices estimate to down in Oct.2017
2017-08-15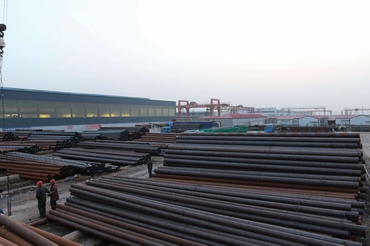 The October 2017 contract has slipped a bit over 2 percent so far this week to 3,880 yuan per metric ton, but remains up 35 percent for the year.

Chinese steel has rallied steadily this year, but high trading volume and a recent steel price surge has worried authorities.Increased oversight on the metal underscores Beijing's priority to maintain market stability in a sensitive political year, and its continued efforts to iron out the country's history of boom-and-bust cycles in commodities trading. China is both the world's largest producer and consumer of steel, so price fluctuations can hit the world's second-largest economy on all sides.

All of this "will continue to affect market sentiment this week, as the commodities market is mostly policy driven," wrote UOB Kay Hian analyst Sandra Huang in a research note. "We think the government is targeting to curb speculative trading in the futures market, rather than in the spot and stock markets."

The scrutiny on commodities is not going away. The Shanghai Stock Exchange has formally asked companies including Anyang Iron and Steel and Fangda Coal for comments on steel prices, the impact of cuts to capacity and production, and clarity regarding company profitability, according to filings. Earlier this month, official state media said the Shanghai exchange would strengthen its oversight of any corporate actions and issues that may pose financial risks to the market.

On Friday, the China Iron and Steel Industry Association said in a strong statement that the jump in steel futures was driven by speculation over the impact of coming capacity cuts, not fundamentals. It also said it had convened meetings with industry to analyze the "abnormal" price fluctuations.

Beijing is aiming to cut steel capacity by up to 150 metric tons by 2020, and major rust belt provinces are meant to scale back production this winter in efforts to lower air pollution. Analysts said last week that recently announced targets related to those cuts had contributed to the surge in pricing.

But given the series of curbs introduced over the last few days, analysts said they expect more action to come from authorities and for the current pricing downtrend to continue in steel, impacting other commodities.

"Basically, retail traders in China have taken this to mean the highs have been seen," said Chris Weston, chief market strategist at IG. "Clearly, there has been a liquidation of long positions from the bulls ... I would be cautious here and be keeping a firm eye on iron ore futures as the selling could accelerate."

The September 2017 iron ore contract traded on the Dalian Commodity Exchange is trading 4 percent lower so far this week.

China's top steel firms were all down Tuesday morning in early trade, led by a 3 percent drop in Maanshan Iron and Steel shares traded in both Shanghai and Hong Kong.


XINSTEEL INFORMATION